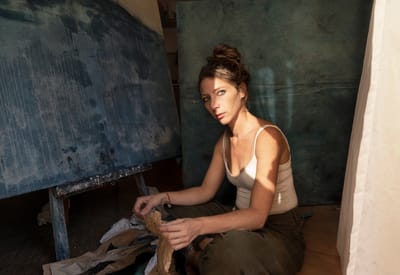 Marilina Marchica, classe 1984, è nata ad Agrigento, dove vive e lavora. Ha conseguito la Laurea in Pittura all'Accademia di Belle Arti di Bologna e all'Università Politecnica di Valencia nel 2008 formandosi con Luca Caccioni, Giovanni Mundula e Adriani Bacilieri.
Sin dagli esordi Marilina Marchica orienta la propria ricerca verso il tema della sottrazione e l'estetica del segno. La sua indagine pittorica si spinge al limite dell'astrazione grazie a una riflessione sulle architetture e, in particolare, sul muro come diaframma interno/esterno e metafora delle relazioni tra l'uomo, la natura e il tempo. Le architetture assumono un valore simbolico in relazione ai crolli e alle demolizioni e si impongono come metafora di una dimensione universale ed esistenziale.
Marilina Marchica è stata protagonista di diverse mostre personali come quelle promosse dalla FAM Gallery di Agrigento, da San Sebastiano Contemporary - Casa Bramante a Palazzolo Acreide, Spazio HUS a Milano. Oltre all'intervento site-Specific ideato per la cripta della Chiesa di Santa Maria del Piliere a Palermo, si ricorda la partecipazione alla II edizione del Premio FAM -
Fabbriche Chiaramontane di Agrigento e alla residenza d'artista a Villa Aurea - Valle dei Templi, promossa dalla Sovrintendenza dei Beni Culturali di Agrigento. Nel 2021 è stata invitata a partecipare al progetto "Visioni Oblique, Libri d'artista, Libri oggetto, Fototesti per il Belice".
Le opere di Marilina Marchica sono state pubblicate in riviste di settore e volumi come "The New Collectors Book" (New York, 2015) e sono presenti in collezioni pubbliche e private italiane e straniere, tra cui le Fabbriche Chiaramontane di Agrigento e il Museo delle Trame Mediterranee - Fondazione Orestiadi di Gibellina.
.Marilina Marchica, born in 1984, was born in Agrigento, where she lives and works. She graduated in Painting at the Academy of Fine Arts in Bologna and at the Polytechnic University of Valencia in 2008 she trained with Luca Caccioni, Giovanni Mundula and Adriano Bacilieri. Marilina Marchica focuses her research on the theme of subtraction and the aesthetics of the sign.
Her pictorial investigation goes to the limit of abstraction thanks to a reflection on architecture and, in particular, on the wall as an internal / external diaphragm and a metaphor for the relationships between man, nature and time.
The architectures take on a symbolic value in relation to collapses and demolitions and impose themselves as a metaphor for a universal and existential dimension.
Marilina Marchica has been the protagonist of various personal exhibitions such as those promoted by the FAM Gallery in Agrigento, by San Sebastiano Contemporary - Casa Bramante in Palazzolo Acreide, Soazio HUS in Milan.
In addition to the site-specific intervention designed for the crypt of the Church of Santa Maria del Piliere in Palermo, we recall the participation in the 2nd edition of the FAM Award - Fabbriche Chiaramontane in Agrigento and in the artist residence at Villa Aurea - Valle dei Templi, promoted by the Superintendency of Cultural Heritage of Agrigento.
In 2021 she was invited to participate in the project "Visioni Oblique, Artist's Books, Object Books, Phototexts for the Belice".
Marilina Marchica's works have been published in sector magazines and volumes such as "The New Collectors Book" (New York, 2015) and are present in public and private collections in Italy and
foreign countries, including the Chiaramontane factories of Agrigento and the Museum of Mediterranean Weaves Fondazione Orestiadi of Gibellina.