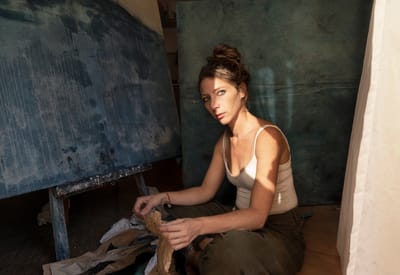 Marilina Marchica
è nata ad Agrigento, Ha conseguito la Laurea in Pittura all'Accademia di Belle Arti di Bologna e ha svolto l'Erasmus all'Universidad Politécnica de Valencia. Oltre alle mostre personali alla FAM Gallery di Agrigento, alla galleria A Sud Arte Contemporanea di Realmonte , Spazio Hus Milano e all'intervento site-specific per la cripta della Chiesa di Santa Maria del Piliere a Palermo, si ricorda la partecipazione alla seconda edizione del Premio FAM, promosso dalle Fabbriche Chiaramontane di Agrigento, e alla residenza d'artista a Villa Aurea - Valle dei Templi, promossa dalla Sovrintendenza dei Beni Culturali di Agrigento.
Le sue opere sono state pubblicate nel volume "New Collectors Book" curato da Basak Malone ed edito a New York nel 2015 e sono state presentate in diversi spazi nel 2019 presso la Galleria Heike Arndt DK di Berlino, presso la galleria Contatto di Roma, Le sue opere sono presenti in molte collezioni private negli Stati Uniti , nella collezione della Fondazione Fabbriche Chiaramontane di Agrigento. Collabora con la galleria Sacca di Pozzallo (RG) e la Fam Gallery di Agrigento.
Oggi vive e lavora tra Roma e Agrigento.
Marilina Marchica
(Agrigento, 1984) lives and works in Rome. She trained at the Universidad Politécnica de Valencia and the Academy of Fine Arts in Bologna, where she graduated in Painting. He has participated in several exhibitions on national and international territory.
In addition to the solo shows at the FAM Gallery in Agrigento, the A Sud Arte Contemporanea gallery in Realmonte, Spazio Hus Milano and the site-specific exhibition for the crypt of the Church of Santa Maria del Piliere in Palermo,
we remember his participation in the FAM Prize of the Chiaramontane Factories of Agrigento and at the artist's residence in Villa Aurea - Valle dei Templi, curated by the Superintendency of Cultural Heritage of Agrigento.
His works have been published in art magazines and volumes including "The New Collectors Book", edited by Basak Malone (New York, 2015).
Landscape and PaperLandscape
Is a series of artworks inspired by landscape and nature,
nature and the passage change over time,
we change nature and nature changes man
the connection between man and nature is very strong
the title of the artworks, not only to be a reference to the material used but is a reflection on the theme of the fragility of the landscape.
Almost all hand Artworks are fully stretched canvas prepared with natural fabrics, pa- pers and the canvas are often prepared through washings and baths inside tanks color pigment.
I love using natural cotton, jute canvas and vegetable papers.